WE DESIGN, INSTALL AND MAINTAIN FOR ALL OF THESE DIVISIONS:
We can provide complete air conditioning services, from design and equipment selection, through to installation, after sales support and cost effective maintenance.
WHY AIR CONDITIONING?
Air conditioning provides the ability to control humidity whilst cooling down air and allows comfortable and adequate freshening and ventilation. Our engineers are experienced in designing and installing systems in retail outlets, hotels, offices, restaurants, leisure complexes and IT rooms. We can help create the right environment for any room or space.
All installations are carried out to BESA (Building Engineering Services Association) & IOR (Institute of Refrigeration) standards.
We cover all aspects of large air conditioning projects including:
Low pressure Hot Water
Chilled Water
Associated Electrical Works
Horsfield's offer a full scope of commercial air conditioning services designed to provide cooling in the summer and heating in the winter. We will deliver a fast, efficient and expert installation. The cooling systems we design range from the simple split system (with one external condensing unit serving a single area) to multi split systems (with many internal fan coils to heat or cool a number of areas). Our design engineers work closely with all the leading manufacturers, like Daikin, Mitsubishi Electric, or Unico, to take full advantage of the latest air conditioning technologies available.
From Variable Refrigerant Volume (VRV) or Variable Refrigerant Flow (VRF) and chilled water systems featuring inverters, to mixed mode cooling systems you can look forward to outstanding efficiency and higher energy savings. With the result being; less impact upon the environment and reduced running costs.
---
OFFICE AIR CONDITIONING
From the largest office air conditioning systems to specialist installations and upgrades, our engineers have experience in all types of building spaces. The solution, usually a split or VRV/VRF air conditioning system, will offer reliability, flexibility and ease of management.
Advanced controls vary the refrigerant volume circulated to match room demand, using inverter technology to manage compressor speed. VRV/VRF air conditioning systems have the ability to utilise the excess heat/cooling generated by one fan coil to use the heat/cooling at another fan coil rather than sending it back to the outdoor unit to be wasted. Heat recovery systems are a highly efficient option for office cooling – they recover heat/cool energy and deploy it where it is most in demand in your building. Heat pumps provide both heating and cooling for all year round climate control.
OFFICE AIR CONDITIONING
---
DATA CENTRE/SERVER ROOM CLIMATE CONTROL
ICT suites and server rooms require specialist knowledge of close control environmental design. Our design engineers will consider all factors to enable cooling loads to be calculated, and critical risks ascertained to ensure that the data centre/server room cooling systems we install are fit for purpose.
---
RETAIL AIR CONDITIONING
From supermarkets, shops, restaurants to galleries, we understand the importance of maintaining a comfortable environment for both clientele and staff, and our substantial experience in the design of air conditioning systems that are discreet, quiet, cost efficient and highly effective will ensure that the right solution can be provided. Our systems will vary in specification with proposals of ducted systems with ceiling/wall diffusers or duct mounted grilles, ceiling cassettes or wall units.
---
INDUSTRIAL/COMMERCIAL WAREHOUSE COOLING
Cooling large spaces in factories, warehouses (retail) requires a different design approach. Evaporative cooling represents the most cost effective solution for these large open spaces.
---
DESIGN AND INSTALLATION
From the air conditioning unit to the air distribution system it is essential that the components are correctly designed and commissioned in accordance with heating and cooling loads. Using AutoCAD 3D design, supported by years of experience, we will ensure that airflow is balanced and the system (including controls) commissioned to deliver energy efficiency and the required designed performance.
AIR CONDITIONING INSTALLATION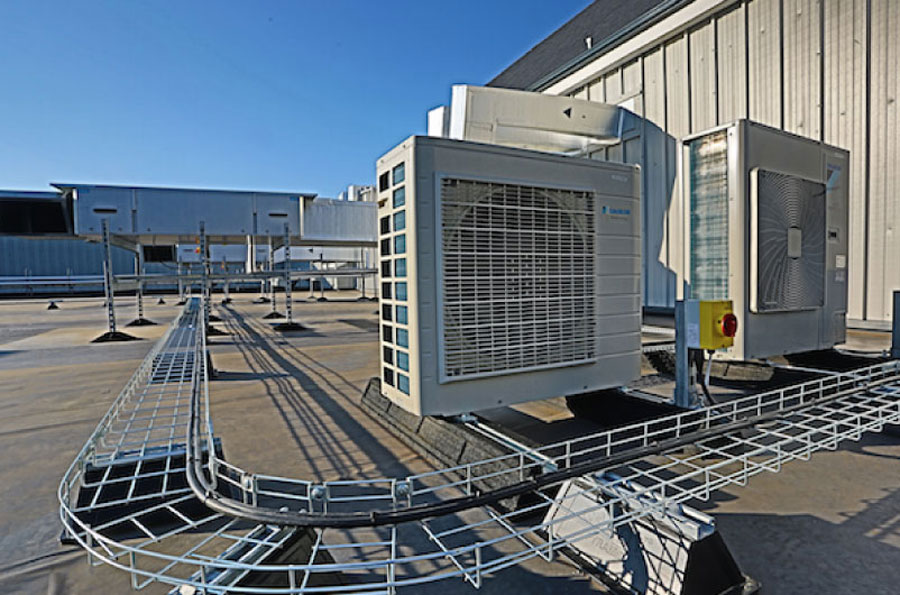 ---
SERVICE AND MAINTENANCE
At Horsfield's we recognise that after sales service is crucial to our success, we have a comprehensive range of HVAC servicing options and offer maintenance contracts for ultimate peace of mind. In the unlikely event that an HVAC repair is required our call out service is timely and experienced with in-house backup available.